Brief Biography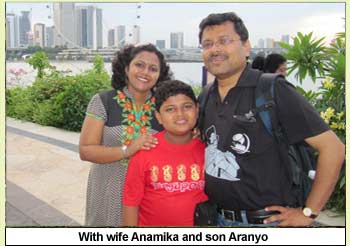 Cutting teeth in hand written wall magazine & printed little magazine from his early days Somen finally took logistics management as his higher study after completing his graduation from University of Calcutta.

In 1991 while in Plus 2 level, Somen started conducting documentary features in Bengali for All India Radios' Calcutta station and later on moved to the English quiz section of the same. From 1995 onwards he started contributing now defunct Calcutta based English daily Amrita Bazar Patrika as freelance journalist mainly covering cultural events, quiz & interviews.In the same year he got a break in The Statesman in it's popular quiz column then used to publish in its supplement "The Saturday Statesman".
Once a regular name in Calcutta's quiz circle Somen is now a contributor in travel pages of The Telegraph,The Statesman,The Hindustan Times, The Pioneer, The Hitavada, The Tribune & The Asian Age.

41 years old Somen is a graduate from St Xavier's college Calcutta & a post graduate diploma holder in management from Indian Institute of Social Welfare & Business Management Calcutta. He is employed with a reputed MNC .

He has formed a small group of friends from different walks of lives with Shyamal Chatterjee, Amitabha Gupta, Amit Guha, Rangan Dutta, Banani Bhattacharya, Arindam Bhowmick, Devashis Nandy and others who are regularly documenting historical data & photographs of various historical monuments of Bengal in form of newspaper articles, blog, web page development & print media.

In his leisure Somen indulges himself in immortal composition of R.D. Burman. Reading fiction based on historical background and novel written on human relationship are his favourite reading material. No wonder William Dalyrimple and Shirshendu Mukherjee are his favourite author. Somen is an adventerous foody too.
Son of a school teacher mother & corporate employed father Somen is married to Anamika for last 14 years & have a 12 years old son Aranyo. Somen's only elder brother Avijit is a CA & presently employed with a corporate house in New Jersy..