| | |
| --- | --- |
| JAIPUR, THE ROYAL CITY OF VICTORY | |
Packed with grand meeting halls, palaces, pleasure gardens, meeting yards, forum and fountains, Jaipur was a piece of surprise to many Britishers who used to visit poverty-ridden India during the colonial era, writes SOMEN SENGUPTA .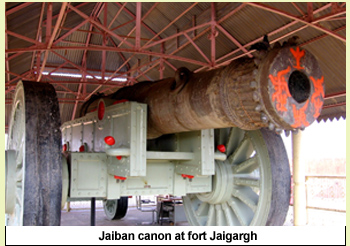 Anything and everything about Jaipur can enchant you. Its name is enough to grip your attention and on top of that its glorious history and archaeology. A city with three ancient forts, mind blowing palaces, a museum with rich collection of art, a temple of astronomy and many more such fascinating places within the city is an absolute delight for anyone. Thus, it's no surprise that Jaipur is one of the most visited destination by tourists, both Indian and foreigners.

Almost every great region of Rajasthan's history is loaded with stories of brave sacrifices in the name of dignity and clever political gambits of compromise to protect interest. In Jaipur it is very much visible. This pink city of India captivated Albert Edward Prince of Wallace in 1876 when its wall and buildings were indeed painted pink considered as colour of hospitality by local custom to impress him.

Today's capital city of Rajasthan was mastermind the of Jai Singh-II of Kachawa dynasty. In 1727 the young king planned to shift his present capital from Amber to a planned city and a town planner from Naihati of Bengal named Vidhyadhar Bhattacharya who was an accounts clerk working in the fort was invited to execute the plan.

Thus was born India's first modern planned city. Within four years a beautiful town was delivered to the king installed with lake, palaces and forts. Divided into nine sectors and protected with eighth gates this city in the next 200 years will play a significant role in India's history where shadows of Marathas, Jaths and finally Brits will be mingled. Due to its support to the British East India company in 1857, rulers of Jaipur found a place in the good books of British rulers till end of the colonial era and it's prosperity bloomed in several folds over the years.


The most photographed landmark of Jaipur is an engineering marvel named Hawa Mahal the 'palace of air'. Built in 1799 by Sawai Pratap Singh and designed by Lal Chand Ustad this was built for ladies of royal family to watch festivals on the road and to enjoy cool air staying behind the veil of dignity. This pink sand stone palace has 593 windows on the backside and 360 on the front side, with stone curtains perfectly preventing the view from outside but providing clear view from inside. The typical Mughal-Rajputana style of jharokha,the hanging pavilions are erected in bee hive shape. The funny thing is that most of the photographs of Hawa Mahal are taken from its back side which is exposed to main road whereas it's front side is faced towards royal palace and not that photogenic as it looks from the main road.

Memories of Albert Edward Prince of Wallace still remain in the city of Jaipur. The man who was once mesmerised by the pink colour of this city now has a superb museum named after him. In his 1876 visit prince himself laid down the foundation stone of this splendid building originally designed by Samuel Swinton Jacob as a town hall for the city. Later it was converted into a museum and named Albert Hall Museum. The majestic building which is illuminated in the night is an amazing blend of Indo-Saracenic architecture. It houses a rich collection of art especially rare miniature paintings and many other artefacts. After visiting this museum once, Rudyard Kipling was so impressed that he wrote "it is now a rebuke to all other museums in India from Calcutta downwards". However, the sculptor section of the museum is weak in collection.

The founder of the city Sawai Jai Singh-II had 28 wives and four concubines but this is only a small part to know about the man who gave us modern India's first planned city. He himself was modern with deep knowledge of mathematics and astronomy. His love for astronomy was so deep that in that era he went on to set up the world's biggest sundial and astronomical tower in Jaipur. Considering its perfection as a scientific equipment UNESCO has announced it as a world heritage site. Known as Jantar Mantar to common people this unique sundial is based on principle of Hindu Sanskrit text where equipment's study three classical celestial coordinate system. Sawai Jai Singh-II also set up four more such sun dials in places like Delhi, Varanasi, Mathura and Ujjain but none of those is as grand as this one.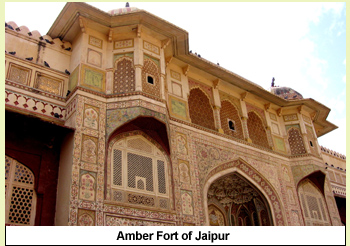 Ancient forts are the real attraction of Jaipur. Besides Delhi there's no city in India where so many massive forts loaded with so much history and archaeological wonders prevail side by side. 11 kilometres away from the city on the lap of Aravalli stands the gem of Jaipur. Known as Amer fort or Amber fort this 16th century citadel is older than this city. It was from here many years ago a young king was forced to shift his capital due to acute water crisis.

Amber fort still stands in a majestic style over a hill top. A feast for anyone who values history, Amber fort is a gem of its own kind. Started in the hand of Man Singh the commander of Emperor Akbar in 1592 the fort is built of red and white sand stone very skillfully blended and very artistically decorated. Series of gates and cobbled stone path lead to the pavilion and palaces. The grandeur of this fort is so majestic that it is still used as back drop of many historical movies.

A daughter of this fort once became one of the queens of Akbar through a politically negotiated marriage. Like any Mughal court this fort also has Diwan-e-Aam, the hall of public audience: a huge hall with extra ordinarily decorated red sand stone pillars open from three sides. This was the place where the king used to meet the common people for official purposes. The other special closed chamber is called Diwan-e-Khas, the hall of special audience: Where special guests were received for confidential matters. This hall is decorated with glass and stone net.

A chamber of Amber fort that has got a permanent place in history of Indian classical cinema is Sheesh Mahal or glass chamber. It is here where many years ago Lata Mangeshkar's iconic song "Jab pyar kiya toh darna kya" was filmed in the lips of legendary actress Madhubala in the film Mughal-e-Azam. Built for queens to enjoy the beauty of the night in flickering reflection this glass chamber still draws maximum interest of the visitors for its partnership with the movies. Such is the power of Hindi cinema in our country.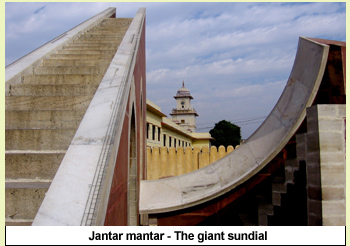 Out of many gates the Ganesh pole is worth mentioning as it was the place where the victorious kings used to receive their royal reception from queens after their return from the battle field.Strange it may sound but the fact remains that the Amber fort of Rajasthan also has a strong Bengal connection. The stone statue of Sheela Devi Jashoreshwari the deity worshipped by this Rajput royal family placed in a temple inside the fort was actually taken from Jessore of Bengal by Raja Man Singh when he defeated Pratapaditya of Bengal in 1604. With the image of Kali a priest was also taken from Bengal at that time. Once human sacrifice was performed here to please the Devi but it was stopped by Sawai Jai Singh-II the king with a modern outlook and leanings to the knowledge of science. Amber Fort can be explored by walking with an audio guide or by riding elephants provided by Rajasthan tourism.

Nahargargh fort is another magnet that attracts lovers of history. Known as the Tiger fort this was built in 1734 by Jai Singh-II for another ring of protection of the new capital Jaipur. It was never attacked by any invaders but it got its place in history in 1857 when during Indian mutiny all European families of Jaipur took shelter here for several weeks under the protection of the king. This four-storey fort has two underground floors. Expanded in 1868 under Maharaja Ram Singh who had added many pavilion for his queens this fort is also known as Sundergargh fort.

The fort saga of Jaipur doesn't end with Nahargargh.There is another small yet beautiful fort named Jaigargh. Built in 1726 as an extension of Amber, this fort was once famous for its cannon foundry. History gives this testimony that various massive Mughal cannons were once manufactured here. Later on Rajputs mastered the art and as a culmination of that in 1720 Maharaja Jai Singh-II manufactured world's biggest cannon on wheel named Jaivan. Today this grand cannon rests silently here in Jaigargh under a tin shade. Never used in any battle this magnum opus cannon was fired only once causing an immediate death of its operator and an elephant in its shock wave. More than 100 kg of gunpower was in need to make it boom and it had the capacity of throwing 50-kg fireballs to a distance of 40 kilometres of range. The 20.1 feet long barrel has a 11-inch diameter with floral design on its surface. The weight of the cannon is 5,000 kg. Jaigargh fort came in news in 1976 when Indira Gandhi ordered a vivid search of hidden treasure of Maharani Gayatri Devi of Jaipur. Army left no stone unturned but nothing was found. As per many political observers it was just an act of revenge by Indira towards Gayatri Devi. They were never in good terms since their school days in Shantiniketan.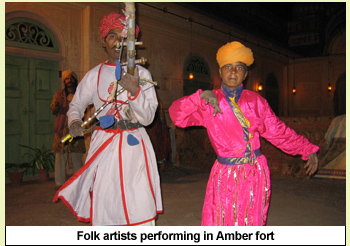 Amber and Nahargargh forts are illuminated at night and regular cultural programmes are organised here to entertain tourists. Both have restaurants and cafes.The city palace of Jaipur is the one that almost every British Viceroy and guests from Europe have mentioned in their India travelogues. The city palace of Jaipur is abode of its rulers ever since Jaipur rose as a modern and planned capital city of the region. The pink and white walled building is a splendid blend of Mughal and Rajput architecture. Packed with grand meeting halls, palaces, pleasure gardens, meeting yards, forum and fountains this dream land was a piece of surprise to many Brits who used to visit poverty ridden India during the colonial era.

Though established in 1732 by Sawai Jai Singh-II it derived its present look between 1862 to 1902 under Sir Samuel Swinton Jacob executive engineer of royal family. The planner of Jaipur also contributed in its design. Only a part of this palace is accessible to common people as the royal family still lives here. Chandra Mahal houses a grand museum with superb collection of royal artefacts and vintage articles like carpets, mirror, ornaments, paintings etc. Legend has it that here during Maratha invasion 21 wives of King Ishwari Singh committed Jauhar by throwing them alive in funeral pyre of their husband who committed suicide in fear of facing Marathas. City Palace also has meeting halls in the name of Diwan-e-Khas and Diwan-e-Aam.

Jaipur became part of India almost immediately with independence but it kept its regal aroma intact for the next 30 years till the time Indira Gandhi Government stopped privy allowance and all other support to all princely States. From then, till now Jaipur somehow managed to uphold its royal charm in the form of its majestic palaces, forts, art, food and royal sports like polo. As the capital of one of India's most important border States, it also has gained the blessings of rapid modernisation.

Its journey with heritage and culture lives up with lakes, temples, gardens and now India's top literary festival JLM promoted by William Dalrymple. Be it an old fort or be it a new literary festival, Jaipur thrills every soul in its own regal style which has no match anywhere in India. Jaipur's story simply doesn't end with a palace or a grand cannon.


This article was published in The Pioneer on 30th April 2017

Click here to view the original article