| | |
| --- | --- |
| LOLEGAON – SERENITY IN TRANQUIL | |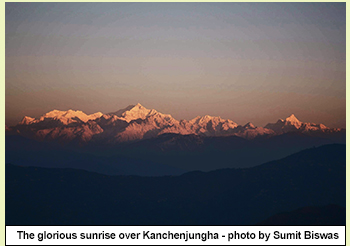 As soon as the mist comes down from abruptly rising hills to the dark forest of oak, pine, birch and silver fir this small village of Darjeeling turns into a mystic kingdom of silence and tranquil. Far from the din and humdrum of city here bliss comes to stay with you. Here the best sound that one can hear is sound of solitude and the best panorama that one can see is a splendid sunrise over the most beautiful snow peaks of the world. Welcome to Lolegaon a small Lepcha village in north Bengal which is gradually becoming one of the most coveted off-beat destination in this part of Himalayas. The 24-km long road leads to this sleepy hamlet caverned behind mist and dark shadows of pine. It does not offer a comfortable ride but if you are one with an interest of history and lucky to get a second world war vintage Land Rover, a few of which still run in this part of Bengal, your heart will feel a pride of heritage travel. Before 1990s this small village habited with 3000 people was not even known to many and then came the craze of off-beat home stay travel in odd places. It made Lolegaon famous overnight. Situated at the extreme end of Himalayan ridge at the altitude of 6068 mt from sea level Lolegaon is an ideal place to sink in the sea of serenity. Here mobile signal is weak and no one complains for it.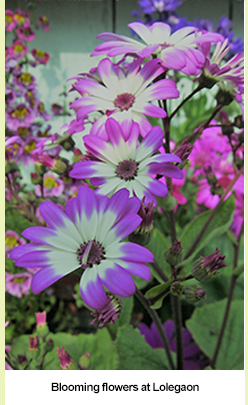 Here accommodations are basic and that does not matter. Here not much to see beyond a forest and Kanchenjungha and that really matter for any wonder lust. Neora Valley National Park the home of snow leopard, sloth bear, leopard cat, red panda and innumerable Himalayan birds almost rubs shoulder with Lolegaon and a part of the forest touches this place. This part is specifically ear marked by West Bengal Forest Development Authority and known as heritage forest of Lolegaon. The forest is open to tourist with entry fees and a good place for birding.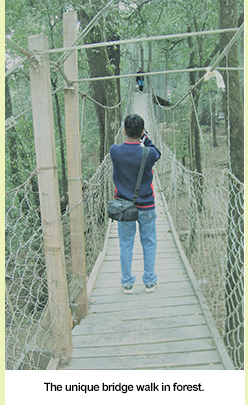 Birding in Lolegaon is the most common relaxing activities and spotting rare Himalayan birds like Darjeeling woodpecker, brown wood owl, black eagle etc are common. What you need most is patience, attention and an ear to follow their chirping. Rest the magic of Lolegaon will do for you. Once you are inside of the heritage forest your attention is bound to fall on an unique hanging path very ideally constructed to give a thrilling feel of forest. The 180 mt long suspended wooden structure is expanded from one tree to another and it goes up from bottom thus giving a throbbing feel of riding the tree and viewing the forest from treetop. Made from planks of wood and fenced with swing iron wire and rope this canopy walk is an experience to remember. It takes you closer to mossy trunks of huge trees on which butterflies and squirrel take rest .The canopy is one way. So once you reaches the end of it you need to come down to take another walk towards tree top. None can give this a miss in Lolegaon after entering heritage forest.

Though Lolegaon is just 24 km from another offbeat hill village Lava, it's height is much lower and it's chill is little lesser. However here forest is more dense and population is thinner. Above all Lolegaon is the place from where view of Kanchenjungh is more breathtaking. Both sunrise and sunset over the Kanchenjungha are visible from Lolegaon. Like many other villages of this region it is 'She' the queen of all peaks Mt Kanchenjungha who rules the horizon on a clear day. One needs enough luck for a clear day that opens the door of royal chamber of the queen over the horizon. The entire massif of the range is visible with train of peaks from Lolegaon. Among them the amalgamation of 5 grand peaks come together to offer a jaw dropping view of Kanchenjungha.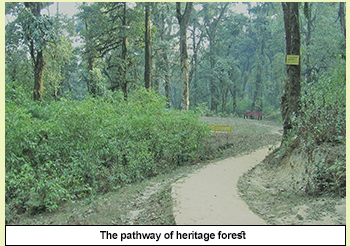 Important to note that out of those five peaks four are scaled greater than 8000 mt and the highest peak known as central Kanchenjungha is 8383 mt that makes it world's third highest peak and highest of India.

Here Kanchenjungha comes with her family that includes many other world famous peaks like Pandim, Kumbhakarna, Kabru-1 and 2. Just opposite of Kanchenjungha range another great range that is Rohtang range is also visible from here. When both the range comes under visibility on a clear day it results a gala treat of eyes and heart. If morning here is ruled by birds and Kanchenjungha then evenings are surely ruled by darkness and silence. Night falls early here and once darkness conquers the atmosphere it is preferred to stay inside as one should not forget it's proximity to a national park. Wild animals like Himalayan black bear or mountain goats are often found walking nearby. Lolegaon in local language means 'happy village' and one who loves to melt with nature always returns happy from here.

Travel Logistics:

# Lolegaon is 124 km from Siliguri and 55 km from Kalimpong.
# All hired vehicles are allowed upto Lava clock tower - After that one needs to change vehicle.
# Try to opt for a 2nd world war Land Rover from stand - I t will be a lifetime experience.
# Hotels and Home stays are mostly basic - The best place to stay at WBFDC tourist lodge that offers an excellent view of mountain and forest.
# You can book it on line - www.wbfdc.net
# Kaffer, a small Sherpa village is just 4 km away and can be visited from here. An old monastery at Lava is also an attraction

This article was published in The Hitavada on 20th December 2020. Mast and icon photo by - Sumit Biswas

Click here to view the original article