| | |
| --- | --- |
| UNEXPLORED "KHAJURAHO" OF ASSAM | |
The entire past of this extraordinary erotica temple named the Madan Kamdev temple is based on assumptions as till now no written reference is found about its establishment and founders, describes Somen Sengupta.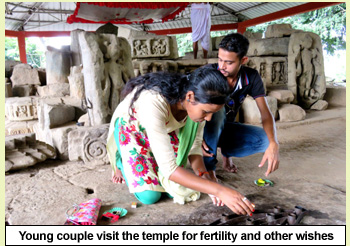 We often love to refer to a place by mentioning its most common and famous icon. Delhi and Hyderabad are often superimposed with Qutub Minar and Charminar respectively, two of their most famous historical monuments. Places like Darjeeling and Srinagar are always presented by images of the Himalayan toy train and a shikara in Dal lake; the most common rides one takes while visiting these places.

Though that is not bad but it casts a cloud of limitation before thinking anything beyond that when the place is recollected for any reference.

Assam is perhaps the best example which is marked with its common icons like rhinoceros or tea plantations. To a large part of people in rest of India there is simply nothing beyond in Assam. This is awfully wrong.

There is an Assam beyond rhinoceros and elephants roaming in its deep and dark national parks. There is an Assam beyond all British tea estates and heritage bungalows. There is an unknown face of Assam that if explored properly, will floor all who never tried to explore this State beyond its known face.

Impossible as it may sound, but the fact remains that on the bank of river Brahmaputra in Assam inside a deep jungle many years ago, a group of temples was erected with a plethora of sculptures and images that express moral lust and desire of men and women. Calling them erotica temples will be improper because today no temple of that group really stands tall. Instead, a huge yard of stone ruins and broken plinth of temple extraordinarily gives testimony to a pristine past that we have overlooked for long.

Like many of our archaeological gems in India, this was also rediscovered by an employee of East India Company. Way back in 1855, a man named Captain E Taite Dalton who was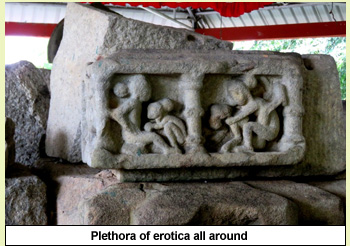 principal assistant of commissioner of Assam toured the area and found several deserted stone temples including a temple popularly known as Madan Kamdev temple. He found all these in a place named Devanagari hills nearly 40 km from Guwahati city.

Though he did some excavation there, he was not able to add much.

Captain Dalton soon contributed a rich article in Calcutta's Asiatic Society journal titled 'Notes of Assam Temple Ruins'.

There he first mentioned an existence of nearly 15 very old temples inside a deep forest near Sisako bridge on the other side of Brahmaputra. It was perhaps the first time when such an important archeological site of Assam was recorded. A devastating earthquake in 1897 grounded almost all temples of the region and thus a huge debris was created with full of ancient stone sculpture and other decorative stone artifacts. From 1901, a local Muslim land official named Niyamat Ali Mondal was given the responsibility to preserve the temple which was by that time already grounded. It was in a poor state that remained under open sky for another 50 years. Finally, a scholar named Tarani Kanta Sarma did dome serious work on these ruins from 1943 to 1949.

The entire past of this extraordinary erotica temple is based on assumptions as till now no written reference is found about its establishment and founders. Local legend says that a copper inscription describing the foundation year and founder's name was there but Niyamat Ali out of some frustration once threw it in a pond thus hushing up all chances of knowing the exact history of the marvelous temple. However the 10th century Hindu text Kalika Puran and 16th century tantric text Yogini Tantra very clearly mention Madan Kamdev temple and its importance.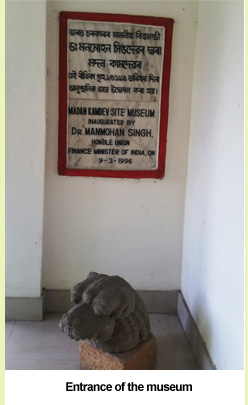 Today from its surviving plinth and thousands of broken pieces of curved stones, it is assumed that the temple was built any time between 9th to 12th century AD when rule of Pala dynasty of Bengal expanded its control in Kampur.

Pala Kings like Indra Pala or Go Pala is often assumed as its founder. One school of thinkers is of an opinion that its construction might have started by a king named Vanamala Varman Deva of Satastambha dynasty in 9th century and it was completed in 12th century under Pala kings. However, there is no solid evidence on that.

From the remains of the temple ruins one can still imagine its massive structure when it was standing intact.

The stone plinth which still exists contains extraordinary finishing of stone polishing with several human figures. No photograph was taken when it was first discovered in 1855. So now it is tough to imagine the actual shape of the temple.

However from the broken artifacts and various stone sculpture experts have imagined that it was built in typical Naggar style followed in the Brahmaputra valley. The temple had three major parts. A pillared gateway with very rich stone curving of floral design was the first part while antarala or the vestibule was its second part. Mandapa or the grand hall where thegarbhagriha used to house the main deity was after that. Today, the garbhagriha is a roofless hall where along with many small and big images Uma- Mahesh statue is worshiped as main deity of this historical temple.

The image that is worshiped now for last many decades is a black stone curved Uma-Mahesh statue where we see Mahesh the Shiva embracing wife Uma in a passionate gesture very much in line with the theme of the temple. Apart from that a four headed Shiva statue placed near the main plinth is also mind blowing.

For its rich ornamentation of erotica panels, Madan Kamdev popularly known as Khajuraho of Assam, does enough justice to its title as plethora of human figures in physical union are still embellished on its walls. Here union of man and woman look passionate as well as divine. Physical union in various position and posture clearly gives the testimony of a cult which is little different from traditional Hindu temples. It also establishes about a bold and open society and cult allowed among Hindus in Assam of that time.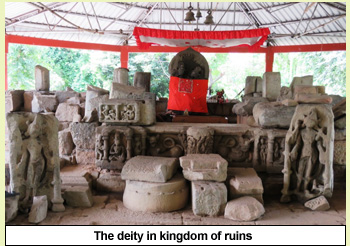 Mythology has its own share in making the legend of this temple. As per that, Kama the God of physical lust, was once reduced to ashes by Lord Shiva as he was trying to disturb his penance. Lord Shiva destroyed Kama only by opening his third eye. It is believed that on this place, Kama was reborn and met his wife, Rati. However a logical mind will accept the fact that the temple got its name only for an abundance of erotic sculptures where Kama and the lust of physical content are expressed.

The major reason for which this ruined temple is significant is nothing but it's bold exposition of nudity in its decorated figures. This is indeed a surprising exception in Assam. No temple even Kamakshya temple, which is famous for tantra where physical intimacy between man and woman is counted as a part of the cult, has no such sculpture on its wall. Another jaw-falling exception is the temple is west side faced instead of east.

Today's Madan Kamdev temple looks more of a ruined city than a temple.

The hill top on which the temple was once situated is now paved with cemented path which on both the sides is decorated with a huge number of broken designed stone and various statues. It gives an extraordinary feel to one while entering the temple. The debris of stone is full of well crafted stones that contain dancing fairies, floral designs, roaring stone lion, divine figures of men and women, various hindu motifs and some small miniature temples. Broken pillars and lintels also with exotic stone curving can also be seen grounded in that debris.

Near the temple complex, the Govt of Assam has opened a small museum which houses an excellent collection of broken sculptures all collected from the site. Though the museum is not well maintained and very badly illuminated one should not give it a miss. It was set up with the fund provided by Dr Manmohan Singh who was then a member of Parliament from Assam.

We Indians have a tradition of destroying our rich heritage in utter negligence and this peerless archaeological ruin of Assam is the best testimony of that. Assam is often referred to as. "…. there is probably no part of India regarding whose past less is generally known".

Ignorance and poor focus on this ruin will only justify that shameful theory.


This article was published in The Pioneer on 9th July 2017

Click here to view the original article