Mahatma and a ravaged Calcutta

The Statesman – 26th January 2020
While India celebrated its freedom on the night of 14 August 1947, Gandhi was at Hydari Manzil in the city, away from the euphoria. During the next 25 days in Calcutta, he braved an angry mob, punished himself by fasting and walked for long durations only for peace to return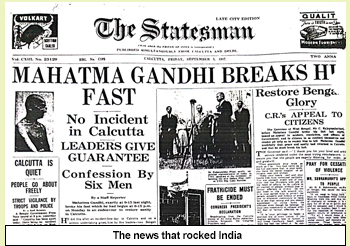 I n that moment of glory Mahatma Gandhi was missing from every celebration. In London's India House, a festive mob had assembled in front of his life-sized photograph. In Delhi, Babu Rajendra Prasad and Lord Mountbatten were praising him as an icon of the time in Raisina Hill's Constituent Assembly. In every city, town and hamlet of India, people were on the streets at midnight hailing his name, singing songs and dancing with joy.

Every news agency, newspaper and radio station of the world was struggling to catch him but he was nowhere to be found. As Jawaharlal Nehru delivered his "Tryst with destiny" speech, the man who had led the nation to a new dawn was asleep in a dark, dilapidated house in Calcutta.

After his dinner at 9 pm on 14 August 1947, Gandhi made a silent round of the city in his car to see how people were celebrating. He practically rejected the country's freedom when it became a reality. In 1947, Gandhi realised that his position in the Congress was not the same as before. His party consented to the Partition without even discussing with him. Except him, everybody else was directly negotiating for power.

Gandhi was an isolated man, both personally and politically.


His wife Kasturba, Rabindranath Tagore, Mahadev Desai and Charles Andrews — all his close friends had died. Still, he was running around the country trying to stop the riots that were raging at the time.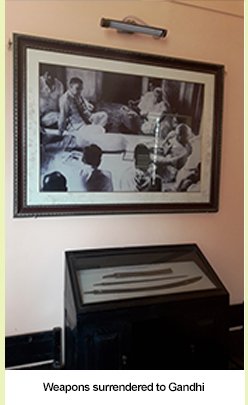 He was visiting Bengal frequently since November 1946 and spent time in Sodepur from 4 March to 14 May 1947. When freedom was at the doorstep and the power corridors of Delhi were abuzz, Gandhi decided to spend 15 August in East Pakistan. He chose Noakhali again because violence against Hindus was seeing no end there. On 9 August, he had arrived from Patna and directly moved to Sodepur. The Calcutta of August 1947 was a city of fear and hate.

In March that year, 80 lives had been lost during four days of riots. From June to August, the city streets were thick with Army personnel and every communally sensitive area was under curfew. The archive of The Statesman shows the ugly face of a city, which was still India's biggest and richest metropolis. "Condition Greatly Deteriorates in Calcutta — Clashes in Beliaghata and Chitpur" read the headline of The Statesman on 8 August. In its 4 August edition, it had reported 13 more communal clashes with killing and arson in Muchipara, Taratala and Beliaghata.

Gandhi arrived in a Calcutta, which was far away from reason and peace. S Surawardhy, the premier of Bengal, who has been disgraced in history as "The Butcher of the Great Calcutta Killings of 1946", rushed to meet him. He requested Gandhi to stay back and protect Calcutta's Muslims, who were under tremendous threat from the retaliatory Hindus.

Gandhi agreed but put a couple of conditions.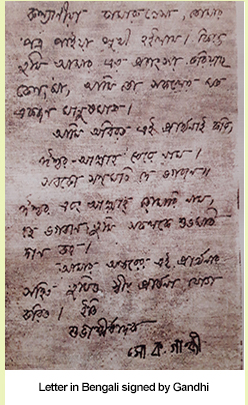 First, the Muslim League government of Pakistan had to protect Hindus in Noakhali and other parts of Bengal. Second, Gandhi would stay with Surawardhy in a locality were Muslims were being killed and no police protection was to be deployed. The latter sounded irrational but no one dared question him.

A dilapidated house called Hydari Manzil, owned by a Gujarati trader from Surat named Gani Miya, was selected. It was located at 150 Beliaghata Main Road. Beliaghata, a Hindu-dominated locality, had witnessed large-scale communal clashes in the year before. A big slum named Miyabagan, inhabited by Muslims, was almost evacuated during the riots. It was a shabby house open from all sides. As it had been locked for a long while, the doors were broken and windows had no latches. There was only one toilet and no electricity. It had one big room where a dormitory was set up. In the last 45 years or so, Gandhi had stayed at the Grand Hotel, Birla House and the posh residence of the Bose family in Woodburn Park. This time, he negotiated Hydari Manzil. Sardar Patel wrote to him, "You are in Calcutta and that too in a murderous place, a veritable den of goondas, and what a choice of companion."

On arriving at Beliaghata on 13 August, Gandhi was confronted by an angry Hindu mob.

They wanted him to move to places like Kankurgachi or Ultadanga where Hindu lives were being devastated.

He called around 20 of them inside and explained that his presence in Beliaghata would create pressure on Surawardhy to protect Hindus in East Pakistan. The situation became worse when the mob saw the Surawardhy behind Gandhi. To tame the tensed atmosphere an exasperated Gandhi finally said, "I am a bania. I know my business." That night itself he decided to stay back till the time Calcutta returned to peace.

On the morning of 15 August, Gandhi woke up early.

The city that had been witnessing riots for one year was converted into a haven of cordial co-existence but on that day itself, Barrackpore and Kanchrapara saw communal killings. He realised that not enough was being done.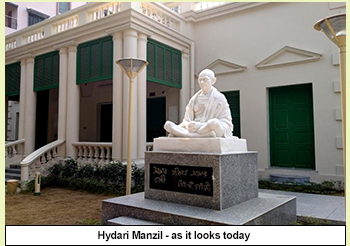 Gandhi started taking long walks from his Beliaghata abode every day covering Sarkar Bazar, Phoolbagan, Jora Mandir, Rasmoni Bazar and some parts of Narkeldanga. On 18 August, he visited the iconic football club, Mohammedan Sporting to celebrate Id-Ul-Fitr. Another grand gathering took place at the Maidan on 25 August. Every evening, there was a prayer meeting to spread the message of harmony.

When everything was looking fine for Calcutta and Gandhi was planning to leave for Noakhali, the situation changed on the midnight of 31 August.

A group of Hindus came to him with a wounded person claiming his injury was inflicted by a Muslim. As his wounds were not serious Gandhi did not entertain the mob. They returned at midnight in larger numbers and with weapons in tow.

They wanted Surawardhy to be handed over to them. Bricks and stones were pelted, and lathisrained on every window and door. Some stones narrowly missed Gandhi himself. "Kill me… kill me… Why don't you kill me?" he said while coming down the stairs with folded hands. Though the police was called to clear the mob, his indomitable power of confronting the truth was still working. He was unvanquished before the mob.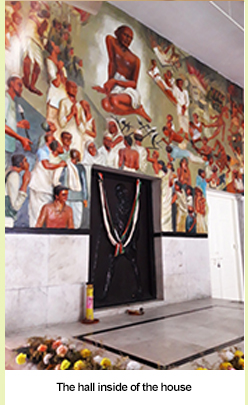 Calcutta was in flames the next day.

At Miyabagan, as a Muslim family was shifting their belongings in a truck, a bomb was tossed from the roof a mansion nearby, killing two people on the spot. Gandhi rushed to the place and wept over the dead bodies. Even in September, Calcutta was in no mood to listen to the most decorated man of India's freedom. In Hydari Manzil, Gandhi prepared himself for a fast till death if amity did not return. On 2 September, The Statesman front page announced, "Mahatma Gandhi Begins Fast —Will end it only if sanity returns to Calcutta." But soon Gandhi's condition deteriorated. His heart beat was faint and a massage was needed to bring it back. An anxious Calcutta rushed to his house but there was no sign of the riots stopping. From 3 September, Gandhi could only murmur and his pulse weak. Even in his weakest voice he was trying to say that revenge was foolhardy.

The thought that Gandhi was dying and his death would deface Calcutta beyond recovery filled the air. The Calcutta Police and Calcutta Bar Association joined his fast to express their support. Soon University students joined them too. "We cordially wish him unqualified success" commented The Statesman, which was always ruthlessly critical to Gandhi's fasting as a political tool.

That afternoon, 27 people came to Beliaghata and surrendered their weapons. Even culprits of the Miyabagan arrived. By evening, it seemed Gandhi had changed the heart of Calcutta. The next day, while still fasting, Gandhi made five representatives of three religious communities sign a pledge to keep Calcutta away from communal flames. Finally at 9.15 pm, on 4 September, after 73 hours when not a single communal clash was reported for the entire day, Gandhi broke his fast with a glass of orange juice.

The next two days Calcutta remained completely calm and normalcy started returning to every corner. Gandhi decided to go to Punjab as there was no sign of peace there. He held a civic reception from Calcutta Municipal Corporation on 6 September and left the city for the last time on 7 September.

Gandhi's mode of leaving Calcutta was an affront to the city. As there was a report of an attempt on his life near College Street and Harrison Road crossing, he took a secret route. His car was diverted to BT Road and took him to Bally Station instead of Howrah. There, from an almost dark platform with a thin presence of officials, one of the greatest icons of the century boarded the Punjab Mail to Delhi.

Gandhi's long association with Bengal that had started from 1896 came to an end. In those 25 days in Calcutta, he had braved an angry mob, punished himself by fasting and walked for long durations — only for peace to return to a ravaged city.

Reference books and periodicals :
Walk Alone – Bhashyam Kasturi.
The Statesman Archive – old pages from 1st August 1047 to 7th September 1947.
Freedom at Midnight – Dominique Lapierre and Larry Collins
Mid night's Fury – Nisid Hajari
Liberty of Death – Patrick French
Indian Summer – Alex Von Tunzelmann
Article of Sukharanjan Sengupta in Bartaman
The Hindu – 15th August 1997
Interview with Jugal Ghosh in 1992.



Click here to view the original article