A Glorious Saga

The Statesman Festival issue in October 2019
The checkered history of the Mohammedan Sporting Club from its colonial days down to present times is dotted with unexpected. spectacular moments.

ORDINARY FUNERAL OF AN EXTRAORDINARY MAN
On 5 November 1989 a thin crowd in Calcutta's Metiabruz joined the funeral procession of an elderly man and did not attract much attention. Only one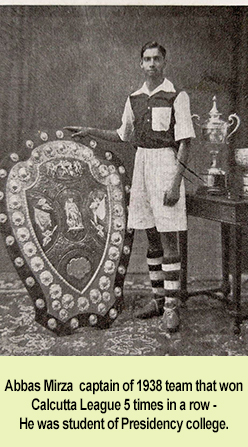 mention was made the following day in Amrita Bazar Patrika (now defunct) that said this man was Muhammad Salim who once played football for Mohammedan Sporting Club (MSC). With his mortal remains buried, Salim's astonishing achievement was lost in the dark depths of history. What's more painful is that the institution, Mohammedan Sporting Club, which turned him into a colossal sporting icon, was also not hailed much. There was none to recall that 53 years ago, this man had made his country proud by playing in an European football club with such outstanding skill that on 29th August, 1936, the 'Scottish Daily Express' of Glasgow described him as an "Indian Juggler - New Style".

A CLUB BORN OF PASSION AND INVISTABLE POLITICAL IDENTITY
A wave of football surged through Bengal's mindset since 1877 with the formation of several football clubs like Aryans, Sovabazar, National and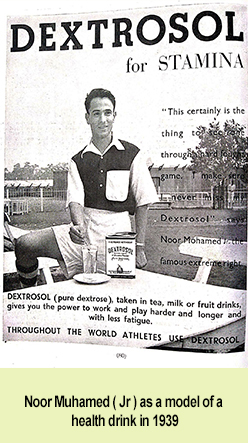 Mohan Bagan. As these all were Hindu dominated clubs, Muslims as a community were looking for a platform with equal scope. So more than 10 years before the formation of All India Muslim League and four years after the formation of Muslim Cricket Club in Bombay, a small sports club was formed in Bengal in 1887 to encourage physical sports to young Muslim youths. the Club Jubilee was formed by three young Urdu speaking educated men named Aminul Islam, Moulavi Abdul Ghani and Maulavi Md Yaseen. it had a short life and soon was reincarnated with the name Hamidia Club in mid-1891. it finally got a new name – Mohammedan Sporting Club – that avowed candidly to represent the Muslim community in sports.

From the earliest reports the objective of the club was explained as an initiative to encourage Muslim youths to have practical recognition to the utility of sports. Formed mostly by Calcutta based Urdu-speaking north Indian Muslims, it also had a few Bengali Muslim aristocrats form Jessore, mymansingh and Bogra. From the beginning, it was clearly separated from the Hindu community in every single aspect but shared close ties with British royals.

Due to club president Nawab Syed Amir Hassan Khan's connection with Calcutta police, the club had access to Calcutta Boys School grounds at Outram Road for practice. Later, it had its own tent and ground on Red Road in 1938. From 1934 to 1947 Mohammedan sporting scripted a golden history in Indian soccer that would remain as an unchallenged mark of India's glory over its colonial ruler. Though history has glorified the euphoria created by Mohan Bagan's victory in 1911 IFA shield over British Army teams, the success of MSC remains almost untold and grossly undervalued.

DISTINCTIVE, PROGRESSIVE AND REVOLUTIONIST
Unlike any other Indian football club, MSC was not a mere local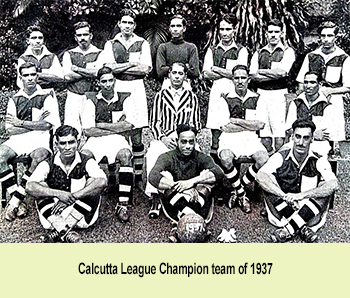 club of Calcutta. From inception it tried to become a pan-India brand with a support base in every single locality of India wherever Muslim population existed. Be it Bombay or Dhaka or Lahore, wherever it went to play, local Muslims rendered emotional support to Calcutta's Mohammedan Sporting. Other Muslim managed clubs of that era like Bangalore Muslims or Muslim Club of India were nowhere near the popularity of MSC.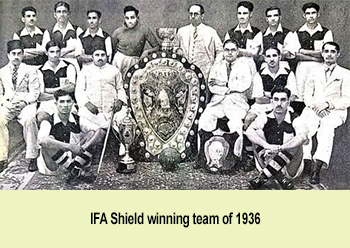 The club's glory run started from 1934, its year of debut by winning Calcutta Football League (CFL) as the first Indian club. Once the financial health of the club was sound and its gradual expansion of influence in political circle began, it became a true professional club breaking through all obstacles other football clubs of that era had to face.

it went aggressive in recruiting players from every corner of India – though non-muslim players were never hired in that period, the selection was so near perfect that its blazing success continued year after year. Players came from Punjab, Bihar, Hyderabad and even from Quetta. This assembly of talent gave them an incomparable edge over their rivals.

Mohammedan was one of the first Indian football clubs to play with boots. An official, named S A Aziz, found a cobbler from Fort William who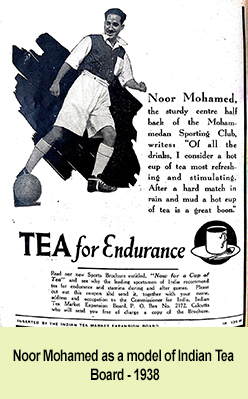 designed a special soccer boot for players. It is indeed a matter of pride that when the Indian football team was still playing barefoot till 1953, a club in Bengal started it in 1933. In India MSC was first to prove that sportspersons are also celebrities not can be used in commercial campaign for business houses.

In 1930s, two of its players, Noor Mohamed and Jumma khan appeared as models for a Tea Board advertisement while another star Noor Mohamed Junior endorsed a health drink named Dextrosol. it is surprising that when no one could think of selecting a cricketer or hockey star in India as a commercial model, and endorsements were raining on Mohammedan Sporting players.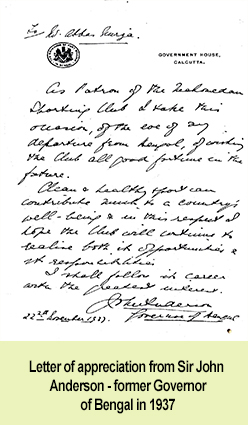 It is a less-known fact that at an early stage of the club, it provided a well-stocked reading room for members called Diamond Jubilee Reading Room. The club used to publish an in-house sports journal 'Calcutta Monthly' edited by Abdul Ghani. Though formed on the line of Islamic ethics, it allowed membership to a woman in mid-1930s. Mrs K Nooruddin was the Sporting and she played an active role in organising a charity match in 1938 at the opening of club's new tent at Red Road.

Mohammedan sporting gave India its first player in professional football for a European team. Muhammed Salim's short stint in the Celtic Club of Glasgow of Scotland in 1936 will ever remain a chapter of pride for every Indian football fan. Without any special training to adapt to European playing conditions, the barefooted Salim played two matches for the club against Hamilton and Galston, in the first match he helped his club to win by 5 goals to 1; while in the other it was 7 to 1. His immaculate ball control and outstanding passing skills left everyone spellbound and the local newspaper Daily Express on 29th August 1936 described is as, "ten twinkling toes of Salim hypnotized the crowd". So it was not only the magic of Dhyanchand's hockey stick to cast a magic spell in Europe of 1936. The barefoot boy from Calcutta's Mohammedan sporting had made his own place there before.

In 1935, the club toured Burma and played several exhibition matches organised by Dovian Andree, younger brother of A.L Andree, Sports correspondent of The Statesman.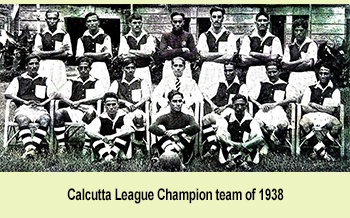 Mohammedan was the first club to create a pan-Indian base of supporters and patrons. In Many villages of Bengal, small replicas of the club were formed by local Muslims and in 1933 a new football club was formed in Dacca, called Dacca Mohammedan Sporting. Later on another club by the same name came up in Hyderabad.

WHEN 'BABES' CAME, SAW AND CONQUERED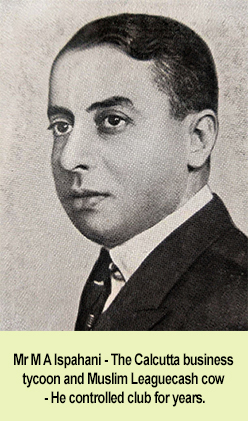 The European monopoly of Calcutta Football League (CFL), was broken for ever on 5th July 1934 When Mohammedan stepped into history as first Indian club to win the crown. It was also the first year they were allowed to play CFl, Old newspaper clips give testimony that the win gave the Maidan area a festive look, In every Muslim enclave of the city, local residents burst crackers and fireworks. processions with jubilant supporters were taken out.

prayers were offered from every mosque and celebrations continued for weeks in remote villages of Bengal. The club received more than 500 odd congratulatory telegrams from many parts of India.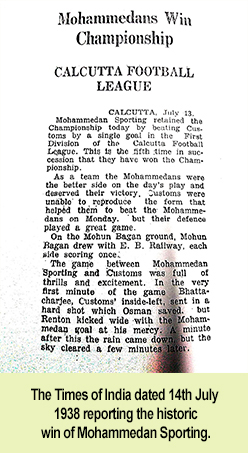 Special messages were received from Governor of Bengal, IFA President Maharaja of Santosh Manmatha Roy and even from heads of various churches of north India hailing the victory as "proud distinction" in Indian football. Though it was sheer victory of one football club but in many parts of India this victory was taken as victory of Islam. On 5th July, the Statesman carried the report, that Mohammedan Sporting became the first Indian team to win the league since its inception in 1898. The rejoicing was transferred from the Maidan to the city, where noisy but good tempered demonstrations were in order. "The success of Mohammedan Sporting is of great merit for this is their first year in the first division. Mohan Bagan has been runners up for four times and East Bengal twice."

Star of India, a newspaper close to Muslim League and mainly circulated among Urdu speaking Muslims went emotional. On 6th July 1934 in long report they addressed the players as "babes". it went, "The babes came, they saw, they conquered. And Their victory is doubly creditable in as much as they have the distinction of being the first Indian team to win the league. Mohammedan Sporting has thus written history in Calcutta football."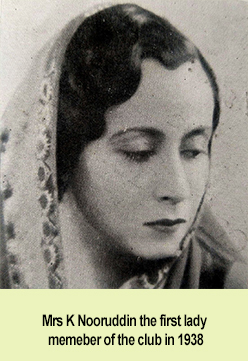 So, 33 years after its establishment Mohammedan had finally arrived and conquered the imagination of a generation. it was just a beginning though.

A CAVALCADE OF INDIAN FOOTBALL
From 1934 to 1947 Indian football and Mohammedan Sporting Club became synonymous. The saga is often described as the journey of "unconquerable Mohammedans". They won again in 1935, 1936, 1937 and 1938 – a record 5 times in a row. The 5th title in 1938 was won under captaincy of a Bengali named Abbas Mirza, a graduate of Calcutta's Presidency College, locking horns with the IFA in 1939, the club did not participate in CFL and that gave Mohan Bagan a chance to win the title. Returning in 1940 they won it again for two years in a row. With nonstop titles of CFL, it also won almost all major tournaments of India. In 1940 they won Durand Cup, Asia's oldest and world's 3rd oldest Football tournament. It was the highest herald of Indian football.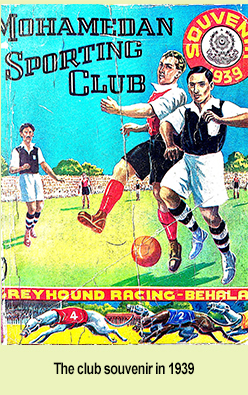 in 1936 Mohammedan became first Indian team to win the double crown of football: CFL and IFA Shield. They won it in 1941 and 1942 as well. They were runners up of IFA shield in 1935. The fairytable of Mohammedan's success imbibed a new touch of the rainbow in 1940 when as a first Indian club it won all three big football tournaments of India. They won CFL, Durand Cup of Delhi and Rovers Cup of Bombay.

FOOTBALL IGNITES MUSIC, POETRY AND POLITICAL ASPIRATION
The magic of football touched the hearts of Bengali Muslims who finally found a bond with the club and a plethora of literary expressions erupted. Thanks to the emergence of Bengali Muslim nationalist politics and the formation of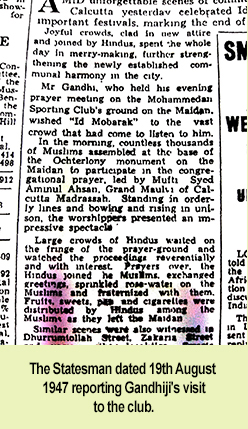 Krishak Praja Party (KPP) – Muslim League coalition Government in Bengal form 1937, this dazzling success of MSC allowed creative persons to write literary and musical compositions. Kazi Nazrul Islam, the rebel poet of Bengal was moved so much that he penned a poem titled "Mobarakbad" to the glory of Mohammedan. it goes:


"Ay Bharater
Obonoto shirey tomra poraley taj,
Shujog pailey shoktitey mora
Ojeo dykhale aaj
Eki obhonabo kirti rakhile nirashabadir deshey
Adhar gagoney ashar Eider
Chand uthilo jey shesshe."



Legendary folk singer of Bengal, Abbas Uddin recorded a song writen by another famous Bengali poet Gulam Mustafa. The disc was released by The Gramophone Company and created waves in Bengal and Assam.


A line of the song goes: "Noirey ey league bijoy – Aaj ke Moder deegbijoy", meaning "This is not a victory of a league – this is our conquest'.

The wave of emotion created over MSC aroused secular-minded leaders like Fazlul Huq who came up with a remark that he needed only Nazrul, Abbas Uddin and MSC to conquer Bengal!

Among the Urdu-speaking, many of whom this club was connected due to their ancestry, also started coming up with creative expressions hailing their dominance. One such couplet went: "Mohammedan Sporting Tumko lakhon lakhon salam/ Hum ab deshka Badshah bane/ Aur sab hain gulam."


it reached its zenith when the story of Mohammedan Sporting was commercially released in gramophone records at a special discounted price for its supporters. One such record was published by The Twin Record Company Limited of Calcutta. Songs by Master Fida Hussain on Mohammedan's glory were broadcast on the radio. This kind of aggressive commercial usage of a football club in that era seems unreal today.

It was also a time when two Muslim political parties of Bengal took full advantage of the situation. By the mid- 1940s Mohammedan was not just a sporting institution – it was the highest herald of the Muslim masses who saw its emergence as an awakening of Muslim political aspiration . It was directed against the dominance of Hindu Bengalis in every social and political arena. In an article published in "The Daily Star', noted historian Mirza Hassan rightly described it by saying, "Form mid- 1930s onward, rivalry in football (as proxy for nationalist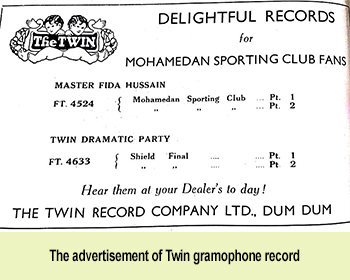 contestations) was no longer limited to English (colonial elite) versus Bengalis (colonised subaltern) but extended to rivalry between Hindus versus Muslims or to put it in our analytical parlance, between the hegemonic nation (Hindu elites) and the subaltern fragment (the doubly subjugated Muslims- both by the English and the Hindu elites)."

BENGAL POLITICS IN 1930S AND ITS ADVANCE INTO FOOTBALL
Form 1932, the political scenario in Bengal was changing drastically with the introduction of communal awards that gave more empowerment to Muslims over Hindus. Though Bengal was a Muslim majority province, its political power was always in the hands of English-educated Hindus who were placed in almost all higher government and educational positions. Bengali Muslims were mainly landless farmers working under Hindu tyrannical.

An English daily's 14th July 1938 reporting the historic win of Mohammedan Sporting.

landlords for generations, Barring a few exceptions, mostly Bengali Hindus or Urdu-speaking Muslims of North India were at the helm of important positions. However, from 1932, everything changed.

The formation of a coalition government with two Muslim parties in 1937, viz Krishak praja party (KPP) and Muslim league and their bold moves to convert Bengal into a Muslim empowered state made the situation worse. More than 50 per cent reservation for Muslims in jobs and police services, separating secondary Education Board from Calcutta University, giving more power to Dacca University and many such moves were all designed to reduce the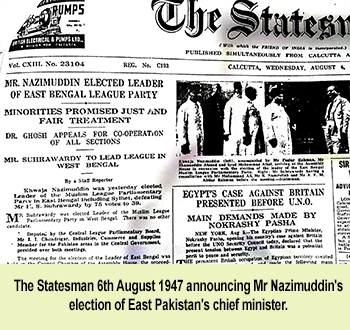 importance of Bengali Hindus in all corridors of power.

This wave opened a new scope to Muslims of Bengal to reposition their presence everywhere and from there it progressed to a deep communal divide in which political party, Muslim League, an organization controlled by Urdu-

The Statesman dated 19th August 1947 reporting Gandhiji's visit to the club.

speaking leaders, gained maximum benefit.

BLENDING POLITICAL GAMBIT AND COMMUNAL OUTCRY
The hysteria of communal tension seeped into the masses frequenting Mohammedan Sporting ground. with so much of success on the ground and even more optimism in overcoming century- old Hindu dominance, it finally took an ugly shape in the form of over-aggression resulting in violence, vandalism and extreme communal hatred among a section of its supporters who were mostly from the extremely deprived levels of society. in his book "In Search of Identity – History of Football in Colonial Calcutta", Soumen Mitra rightly described this situation saying, "The lower classes found in the game an instant legitimization of long standing grievances. much of the Violence involved in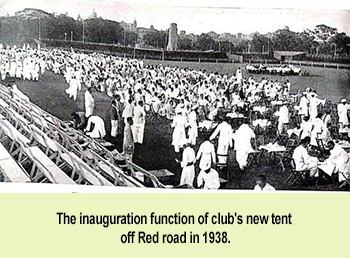 Mohammedan Sporting's matches can be attributed to the volatile nature of developing agenda of communal politics". As Muslim League was the only party gaining from this wave, its members and patrons began to grow in number in Mohammedan Sporting management.

Form 1934, business tycoons of Calcutta like M A Ispahani and khwaja Nazimuddin, two top fundraisers of Muslim League were controlling the club, Later on, Khwaja Nazimuddin became prime minister of Pakistan. Bengali Muslim leader of KPP, Fazlul Huq was also associated with the club.

The continuing success and growing political affinity to Muslim political parties created a rift between Mohammedan Sporting and the common mass of Bengal, especially with Hindus. Violence became an indispensable part of Mohammedan Sporting crowd in every match, if any decision went against them. The crowd started attacking even players and officials of rival teams. In 1937 a match against East Bengal (EB), a MSC player attacked an official of EB named Girin Ghosh that resulted in massive disturbances in central Calcutta with stone pelting, street-fights and a 13-year-old boy getting stabbed.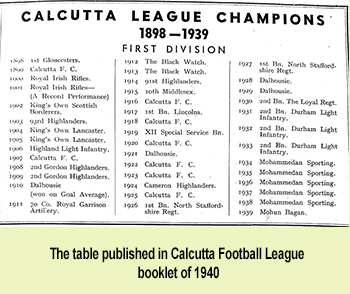 The event turned so sensitive that IFA suspended Mohammedan and newspapers like The Statesman and Amrita Bazar Patrika openly castigated communal polarization in football by MSC.

However MSC was later allowed to play League and surprisingly again won the title. It was the fourth in a row, breaking the earlier record of British team Durham Light Infantry.

FROM FOOTBALL CLUB TO DECLARATION OF 'MUSLIM IDENTITY'
Mohammedan sporting Club was an unspoken declaration of Muslim identity and a major cause of its failure of not becoming an inspiration of national awakening. The colour of its flag and jersey, black and white, were also of Islamic significance. There was no place for Hindus in its team and the clear influence of Muslim Political parties added to its image. In 1936 when MSC as the first Indian club won both CFL and IFA shield (previously only three European clubs had achieved this, viz: Royal Irish Rifles, Gordon Highlanders and Calcutta Football Club) an Australian newspaper named Sydney Morning described it as "Honor for Islam". Hardly anyone felt at that time that later this would be wrongly translated by many and detrimentally affect a great institution. In 1940, Pakistan resolution was moved in Lahore by an affable Bengali Muslim leader Fazlul Haque, who himself was once a player of Mohammedan Sporting. Growing communal tension followed by riots pushed Bengal to such a corner that in 1946, IFA Shield and in 1947 CFL were cancelled.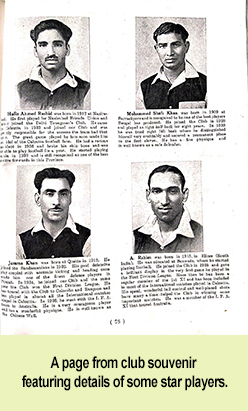 From 1934 to 1947 MSC emerged as a Victorious team. It is a party that today's generation is not aware of its history. An Indian club that first won Asia's oldest tournament, Durand and Asia's oldest football league five times in a row is extraordinary. The triple titles victory of 1940 as first Indian team, or the first team to introduce boots, or the first institution that proved players also have commercial value in endorsement are all watersheds in the life of a nation that was colonized for centuries. Legendary players and organizers who achieved all this for MSC were all "supermen" in their soccer skills but unfortunately born in a wrong time.

The precarious reality as it stands now is that such an astounding achievement which could have become legendary folklore in our national chronicle has banished into oblivion.

Reference :
*In search of an Identity – History of Football in colonial Calcutta by Soumen Mitra
*Nation at play – A History of Sports in India by Ronojoy Sen
*Goalless – The Story of a unique football playing nation by Boria Majumdar and Kaushik Bandyopnadhyay
*Barefoot to Boots – The Many Lives of Indian Football by Novy Kapadia
*The Sporting Mohammedan – Football, Community, Identity by Avijit Ghosh(The Pioneer dated 27th July 1997)
*Football and the nationalism in Bengal by Mirza Hasan (The Daily Star dated 22nd July 2018)
*India's Premier Sports Club – A brief history of Mohammedan Sporting – published in Mohammedan Sporting Club Souvenir of 1939
*Calcutta Football League booklet of 1938 and 1937
*East Bengal Samachar- June 2019
*Ei Samal – 14th July-2019
Special Thanks To
*The Statesman Archives section
* Boria Majumdar and Fanatic Sports Museum Calcutta for research material and photographs


Click here to view the original article