| | |
| --- | --- |
| NAGGAR: WHERE HERITAGE MEETS WISDOM | |
There's more to this hill station that just visual delights and natural beauty. It also boasts of ancient city charm, a charming castle, and a research institute. The story of Naggar is a unique chapter in the book of history, writes Somen Sengupta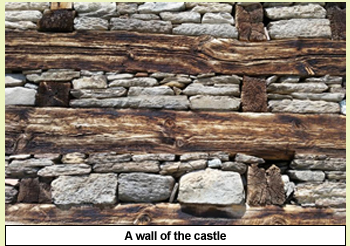 An academically-enriched Russian family once fell in love with India and its people. In India's life and culture, they found academically-relevant topics that intrigued them. On July 24, 1928, they founded a small institution in Darjeeling. They named the institution " Urusvati," a Sanskrit word meaning "the light of the morning star". It was the Himalayan Research Institute.

But soon, its address had to be changed. It was moved to a hill top, surrounded by dense pine, oak and deodhar trees of Punjab. A rich tale from history was already blended in its chronicle. Movement of the Roerich family to a new location did not take away from the institute's glory; it simply added a new chapter of richness to its cultural heritage.

Naggar — the new location of the institute proved to be perfect for it. A part of the Kullu valley, it was still largely disconnected from the rest of India as there was hardly any communication at that point of time. Taking every risk that came their way, the Russian family finally found a new nest in Naggar, where for many years, the royal family of Kullu had had their settlement.

Situated on the bank of river Bias, the hill top known as Naggar was a shining flame of India's history. Although as a hill retreat it was in no way comparable with the Shimla or Darjeeling of the British Raj days, it still had a unique charm. It was never a holiday retreat for European rulers. But, it was pregnant with several tales from mythology, legend and history.

Far away from the din and kerfuffle of city life, it slept in the lap of a deep pine forest, overlooking a jaw-dropping panorama of snow-capped peaks of the Himalayas. Nestled in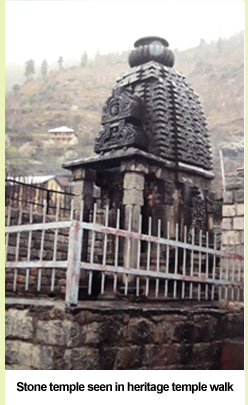 the deep apple orchard and green glades, Naggar of the Kullu valley houses small relics from an ancient time. It also boasts of a unique castle built of ingredients typical to Kullu. Situated near the bank of Bias, this place is perhaps the richest hill village of India — in terms of heritage.

The story of Naggar dates back to more than 1400 years ago when the capital of Kullu was shifted here by king Bishudh Pal. The unique stone castle of Naggar was built by Raja Sidh Singh more than 500 years ago. Legend has it that stones were collected from an abandoned palace of Baragaon fort of Rana Bosal and transported by a long human chain across the river.

It was the royal seat of the Kullu dynasty before the capital was shifted to Sultanpur. In 1846, after it was captured by Sikhs, British Asst. Commissioner Major Hay had purchased it and modified it. He added a staircase, a fire place, chimneys, etc. It became an amalgamation of things indigenous and things English. Now, a heritage hotel under HPTDC, the castle is the gem of this heritage hill top. It houses an excellent museum with rich collection artifacts and dresses like pattu, chola, thippu etc. The air inside the castle of Nagger is fresh yet heavy. The mind blowing panorama that it offers from every corner of the castle covers dotting snow-capped mountains and a river that flows just next to the valley.

However, little history and a big doze of local legend add a touch of pensive notes that create a tune of melancholy where tears of a suppressed queen walk silently. Legend goes that after including Lahul into his kingdom, King Raja Jita Singh expressed a desire to have a girl from Lahul as his queen to enrich his already big collection of wives. Thus, officials went on to select the most beautiful girl of Lahul. Finally, a young girl named Rasili was presented to him. Rasili became one of his youngest wives but she could never give her heart to his much married old husband. A homesick queen, she was depressed from the beginning. Raja Jita Singh kept doing his best to entertain her.

Then came a day when a wrestling competition was arranged at the royal palace where the official wrestler of Kullu was challenged by a young wrestler from Lahul. After a tough fight, when the young man from Lahul finally floored the official wrestler of Kullu, the entire forum was sunk in silence. There was just one person cheering. It was none other than Rasili, the Lahul queen of the Raja. She was so ecstatic by the victory of her native man that she threw her pearl necklace to him. This led to a very public expression of anger by the king as she was openly scolded by him. The insulted queen committed suicide on the same night by jumping from the balcony of the castle into the flowing river, down inthe valley. The wounded spirit of the queen is still believed to be inside the castle and sound of her silver anklet still haunts people.

If this is enough to create an aura of this castle then there is more to make one excited. The construction of the castle has been done in the " Kathkooni" style of architecture. It is a distinctive school of engineering where typical kullu ingredients of rough hewn stone slabs are used with interlocking techniques, supported with wood beams in layers. There is no use of iron or any other metal in any kind of fixing. The construction is so strong and shock bearing that the castle survived in 1905 Kullu earth quake overcoming the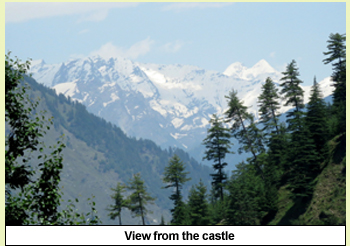 wrath of tremors that grounded almost all construction, including a part of Kangra fort.

Built in influence of Indo-Tibetan style with long veranda and a corridor, the castle has almost magical brown and grey colored stone and wood. It looks so picture perfect that when the sun shines, its wall turn light golden, giving a superb expression of rich wood carving on its wall, carnies, pillars and rooftops. The passage and courtyards of the castle are decorated with rich artifacts and trophies of wild animals killed by the royal family. Two massive gates of the castle are built out of extracting a single trunk of tree. One gate is sized 85 ft by 39 ft by 3 ft.

At the courtyard of the Naggar castle stands " Deotibba" or the seat of royal deity. It is known as Jagatpati temple, a Sati pith. Again, legend runs strong that this temple was built on the wish of queen Rasili for whom God and Goddesses carried stone from the Goshal hill of Lahul, her native place in form of bees and birds.

The biggest magic of Naggar is perhaps in its heritage temple walk where in one walk, four different temples built in four different schools of architecture open new avenues. Local people call it "Char Dham Yatra" a poor and needless comparison with the Char Dham of Uttarakhand.

The first temple that comes in the yatra is none other than the Gouri Shankar temple and the first blast of surprise starts from there itself. Known as the last archeological monument of Gurjjara-Pratihar tradition, Gourishankar temple enshrines idols of Shiva, Parvati and baby Ganesha with many other stone-carved musicians and devotees. This is a stone-built, exquisite shikhara-styled temple with nine floors and an exception in this region. Opposite this one, another temple named Narsingh Devta Temple is situated.

What comes next in the walk is Pauri Baba Temple at a place named Jiri. It was originally a cave temple and now built in wood and stone with a roof deeply influenced by a hill temple school of the region. Next comes a Krishna temple at a place named Thava, a small hill city once visited and mentioned in the travelogues of Chinese traveler Xyan Zang who came here in the 7th century. Today, this temple is the only relic of that human settlement seen by Xuan Zang. The temple was built in the Gupta-era style with carved stones and a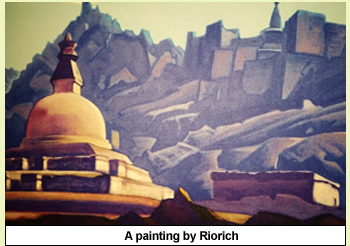 Shikhara at its pinnacle. The original temple was badly damaged in the 1905 earthquake and the present temple was rebuilt in the same year. During festivals, the deity of the temple travels in a chariot.

The last temple of this heritage walk is Tripura Sundari temple (it has nothing to do with modern state of Tripura, though), which has been built in pagoda style with excellent wood carving. The deity is known as Goddess of three worlds and the three-tiered temple is built in deodhar wood. Base floors are supported on the pillars while the top one is circular. This is an exceptional piece of work.

Now, let's come back to the story of a Russian family that decided to settle here and establish a world-class international institute of complex studies. From 1923 to 1928, a Russian academician named Nikolay Konstantinovich Roerich travelled across border of India, Tibet, Mongolia, China and Russia covering incalculable number of archaeological ruins, historical monuments and other places of interest. This expedition also helped him to collect several books and sacred texts, and artifacts.

With all those, his dream of establishing a world-class international institute of complex studies with a true blend of ancient knowledge and modern scientific discovery shaped up here in the quaint Himalayan valley. This institute was just ahead of its time. Its area covered a profound study of archaeology, natural science, Tibetan medicine, cultural history of Asian people, Astronomy, Astro Physics, Biology and Metal energy. A world-class laboratory was founded in 1930 where along with Russians, Tibetan Lamas and Indian researchers soon joined.The institute conducted several expeditions in the first few years in remote and difficult places like Lahul, Kangra etc and enriched its library. Such was the reputation of Institute that soon its members started working with Michigan University and Harvard University of USA and Museum of Natural History of Paris.World famous statesmen and scientists like Albert Einstein were aware of its contribution. It attracted the attention of Sir Jagadish Chandra Bose, Sir CV Raman, Radhakriishnan, Abanindranath Tagore, Jawaharlal Nehru, and Rabindranath Tagore.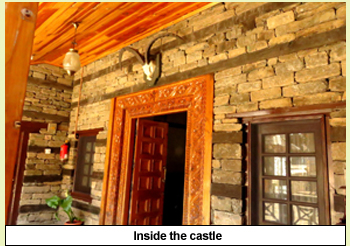 With the end of the World War II in 1945, the institute faced acute cash crunch and many activities gradually became non-functional. Finally, with the initiative of Svetoslav Roerich, an Agreement of Co-operation was signed between the Russian Govt and the Institute. It is again buzzing with new support from the Indian Government. Its main focus is on fine arts and science.

Today, the institute houses an extra ordinary museum with artifacts, paintings and several memorabilia of Roerich family. It has a huge collection of sculpture, handcrafts, dolls, books both from Russia and India. Needless to say it has huge old photographs and texts that give a correct testimonial evidence of the life of this place in that era. The biggest treasure of the museum is rich collection of original paintings of father and son.

Paintings of Nicholas and Svetoslav Roerich are so distinctive and special that one can not take his eye off from them.The subject of the paintings cover their entire academic life where we see landscape of central Asia to Russian folk dancers.In every stroke of brush father and sone had created a silent history far away from the sight of common people.

Rabindranath Tagore was so impressed by the paintings of Nicholas and his son Svetoslav Roerich who later on married and settled with Devika Rani the first super heroine of Indian silver screen that he wrote to them "Your pictures profoundly moved me. They made me realize that truth is infinite.When I tried to find words to describe to myself what were the ideas which your pictures suggested, I failed. It was because the language of words can only express a particular aspect of truth. When one art can fully be expressed by another, it is a failure. Your pictures are distinct and yet are not definable by words – Your art is jealous of its independence because it is great."

Naggar is an amazing exception in terms of its importance as a heritage place. Apart from its visual delights of natural beauty, its relic of an ancient city, an extra ordinary castle and a research institute with outstanding reputation have made Naggar a lighthouse of history where in clandestine heritage silently meets with wisdom.


This article was published in The Pioneer on 3rd June 2018

Click here to view the original article