| | |
| --- | --- |
| RANCHI WAR CEMETERY : A GLORY IN OBLIVION | |
Commonwealth War Cemetery in Ranchi, Jharkhand, bears a silent testimony to a part of British India history that is long forgotten, writes Somen Sengupta.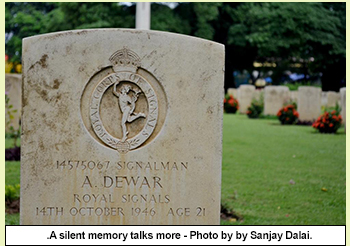 Once the summer capital of undivided Bihar for it's wild beauty and cold weather, Ranchi now looks like a poster boy of an unplanned urbanized over populated city.

Though a capital of a newly born state for more than two decades there is hardly any significant town planning executed here.

Near to the Main Road of the city there stands Old Hazari Bagh Road's Netaji Nagar locality at Kantatoli Chowk where behind a filthy bus stand a small piece of history sleeps in oblivion.

Overlooked by locals yet watched across the world in internet and often visited by many to remember their beloved one who many years ago were perished in India and Burma to protect the glory of Queen of England.

It is the Ranchi Common Wealth War Cemetery where many fallen soldiers of 2nd world war got their final resting place.Today hardly anyone in Ranchi cares for them but still their grave stones and brief introduction curved on it lit up a memory of a manmade horror called 2nd world war.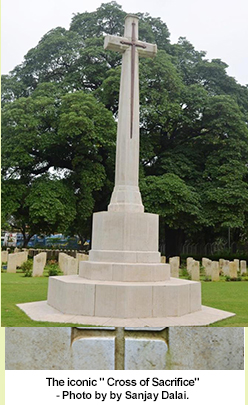 Out of eight World War cemeteries in India eastern states like Manipur, Nagaland, Bengal, Assam and Jharkhand house five. From this it is easy to understand that impact of the war was tremendous in this part because maximum amassing of Allied solders were here to protect India from a probable Japanese invasion in early 1940s.

One needs to walk back in history to recall that after the fall of Singapore and Rangoon in 1942 in the hand of Japan there was a cloud of panic over British India. By 1944 Axis forces were already inside India with Netaji Bose's INA and they had overtaken large area near Imphal of Manipur. The eastern part of India had a very weak defense with only 7 divisions of army and almost no air fields.

By May 1942 Allied started amassing their army from Common Wealth countries and also started to build logistics infrastructure in form of new air strips and army bases.

By the end of 1944 places like Calcutta, Guwahati, Kohima and many frontiers of Assam and Bengal were flooded with American and Common Wealth soldiers arriving from Canada, Australia, Great Britain, New Zealand and India.

Almost at the same time a secret army training camp was opened at Ramgargh near Ranchi were Brit and American army officers were parting training to Chinese soldiers back from the front.

In a nutshell this zone around Ranchi was buzzing with a secret yet tensed air of war.

However Ranchi and it's suburbs did not see any significant action during the war.

Elsewhere in Assam, Manipur, Arunachal and even in Calcutta city there was casualities of soldiers. Many brave hearts were dead many souls were lost without even any trace.Many were buried in civilian cemetery and many were physically mutilated so badly that their mortal remains were not fir for a decent burial. It was the darkest saga of civilisation.

As it did at the end of 1st world war ,Common Wealth War Grave Commission started to organize army cemetery across the globe after 2nd world war as well. The project of Ranchi was undertaken in 1952.

From various battle fields and other military and civil cemeteries relics of the fallen soldiers were taken to Ranchi and a small yet wonderful war cemetery was designed with all international features. This place which was much open and well organized in 1952 was selected and across India 704 graves were shifted here.Today it has 51 grave stone of Indian soldiers and out of that 4 are from Bihar Regiment.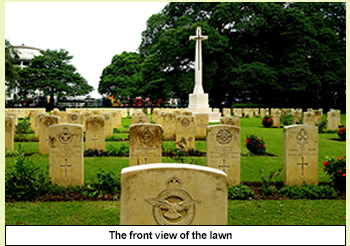 200 graves were taken from 12 civil cemeteries.Today apart from 704 war graves this cemetery houses 3 non war graves as well.

The green open field of the cemetery is it's charming beauty.

At it's centre there stands the cynosure of the field a long freestanding Latin cross called " Cross of Sacrifice " a very common feature of any world war cemetery that contains more than 40 graves. Here in Ranchi the cross of sacrifice designed by Reginald Blomfield stands like a witness of a time washed with blood and tears.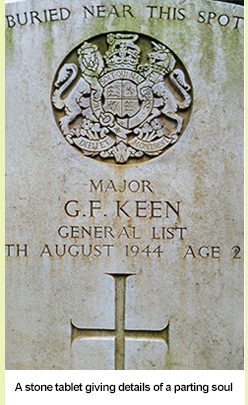 In row after row headstones stand to tell a saga of pain, pangs and excoriated sacrifices.

On a headstone apart from the name of the soldier, his designation &, his age at death, is written.Every headstone is decorated with the regimental badge of the dead and a personal line dedicated to him by his family.

The array of the regiments found here like Royal Australian Air Forces, Royal Canadian Air Forces, East Yorkshire Regiment, West African Army, Royal Army Ordinance, East Lancashire Regiment, Westmorland & Cumberland Yeo etc give the evidence how the world went mad in those days.

The headstones in it's stony silence tell story of a glorious death. It shows death kissed all from a pilot a signalman to a wireless operator to an air gunner .It touched all ages from 20 to 46 or so. It travelled from Australia to Canada to India leaving none.

Some of the stones contain age of the deceased as low as 20 years.Every head stone is scripted with a personal line dedicated to the dead and some of those are really tear jerkers.

On one such stone for a departed soul died at the age of 21 years is written " Sleep on,beloved sleep and take thy rest " while on the other for one who died at the age of 20 it reads " He dies that we might live ".

It is not that all fallen heroes got their last resting in order.

There are some whose headstones are here but there is no trace of their actual place of resting . One such man was Major GF Keen died in 1944 and another was FG Jackson. Their headstones read " Buried Near Here".

Though the cemetery is not easy to locate and very thinly visited by local people it's maintenance is excellent under the direct supervision of CWWWGC. It's majestic sandstone gate mentions "1939-1945" indicating the years of 2nd world war.

Those who often visit Ranchi rush to see waterfalls around and it's hill tops. Thanks to it's near zero publicity hardly anyone pays a visit to this war cemetery situated at the heart of the city. Very recently it has featured in some of the guide books printed by Jharkhand tourism.

Today 75 years after that nightmarish years this smallest CW war cemetery of India at Ranchi still stands like a silent sentinel of time and it amazingly upholds the message of a headstone that it houses inside.Themessage in simple way reads " Thoughts go back to bygone days – Life moves on but memory stays".

This article was published in The Pioneer on 28th February 2021. Photographs : Somen Sengupta and Sanjay Kumar Dalai

Click here to view the original article