| | |
| --- | --- |
| TUKVAR: A TEA STORY WITH THE QUEEN | |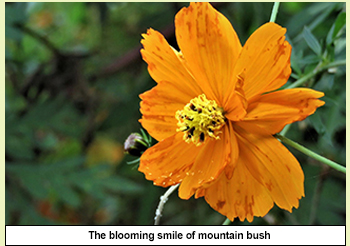 At the end of an almost unsurmountable road, finally our car reached at an edge of a stiff slope. From here one needs to walk down towards a small wooden cottage standing at a threshold of a tea garden. At the end of that earthy road is a small milestone that reads " Bliss -0". I genuinely have no reason to differ with that. The insipid lockdown, online meetings, washing hands, masking faces and above all fear of death were still ruling over me when I was boarding my flight to Bagdogra but once I disembarked from flight to travel in hills of Bengal, the old wonderlust in me was alive!

I thanked God that I was back in the mountains. We found no support from our family and friends to makeatrip to the hills. However, the call of Kanchenjungha had given measilent permission. We are almost in Darjeeling, yet not there. This time on my trip to Kanchenjungha, I added a heritage tea estate to my travel itinerary. We reached Tukvar, where in 1852 the first commercial tea plantation started was in Darjeeling. Rest, as they they say, is history.

Across Assam, Bengal and Sikkim tea tourism is the new trend. It does not offer luxury but rich experience of British heritage. Tukvar the oldest tea estate now known as Puttabong is new hill destination of Bengal. In 1508 when an unique leaf named tea arrived in Europe from China through Portuguese and soon became a popular drink across countries, no one perhaps imagined that within 300 years or so this will become a signature commercial crop of British heritage.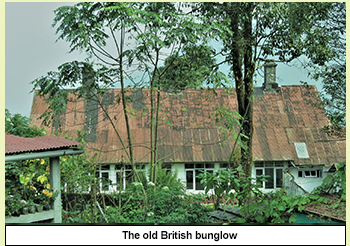 We were at 6500 ft from sea level and nearly 22 km from Rangeet River that makes boundary between Sikkim and Bengal. As Sikkim is very close from here, its climate often influences Tukvar's.The day we arrived it was cloudy because there was snowfall in Sikkim the night before.

Cloudy weather meant that the chances of witnessing Kanchenjungha is slim. I prepared myself to be satisfied with only heritage marvel this time. The heritage bunglow of Tukvar is not open for tourist yet but within the tea estate a private wooden cottage has started offering accommodation - That is till now the only place to stay here ensuring limited crowd and an endless solitude with chilling fresh mountain air. With that the panorama of world's most beautiful snow range. it truly makes for a deadly combo. We were hardly 20 kms from Darjeeling town, yet it seemed that were in a deep, isolated faraway place. No sound and no light on the horizon as far as one could see. On the upside, the cottage was tastefully lit up.

Soon, after our arrival, pure golden Darjeeling tea was served with vegetarian snacks. In that chilling cold and darkness outside, sipping a steaming cup of tea was nothing less than being offered a taste of ambrosia. In the serene surroundings, we were tempted to crack a ghost story or better yet listen to the soft melodies of Kishore Kumar. As both were not beyond reach at that moment, we took refuge in the glorious history of Darjeeling and Tukvar.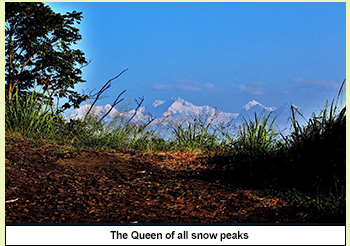 Though tea in Darjeeling was first planted in 1841 by Arthur Campbell a Scot the commercial production started in 1852 by Captain Masson in Tukvar. Almost at the same time commercial production started in two more places named Steinthal (meaning 'Stone Valley' in German ) and Aloobari.

Tukvar also has a German connection, my son chimed in with joy. 1830s, much before of tea story began, a group of Protestant missionaries from Moravian Church of Germany were sent here to convert local people into Christianity. It was known as Tukvar Mission planned by one Reverend William Start. The mission failed. The group disbanded but one member named Andrew Wernickelater worked in Tukvar tea estate. He also worked in two more iconic tea estates of Darjeeling named Makaibari and Glenburn.

Time moved fast with more exciting stories like how a deeply ridged forest frequented by tiger, leopard and bear was gradually developed into one of the best hill retreat of India by British after they failed badly in Cherapunji of Assam. We recalled the lives George Lloyd and JW Grant, first two officers of East India Company who were sent here in 1829.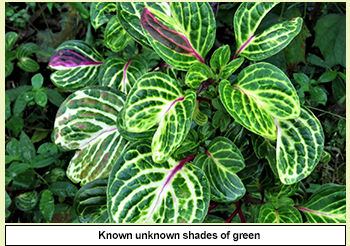 It was only the sound of silence prevailing outside when we had our simple yet mouth-watering dinner.Awarm surrender under the double layer blanket soon took us to a blissful sleep.

In morning Queen was smiling on us - Over the green carpet of tea garden, the skies cleared and Mt Kanchenjungha was visible in her full glory.

The cloudless November sky set the moment perfect exposing the long range of snow peaks almost covering all major peaks of Kanchenjungha. Starting from Kumbhakarna on extreme left range moved like a cavalcade touching Kabru -1 and Kabru -2 and ending at Mt Pandim. In the middle there was amazing amalgamation of five peaks of Kanchenjungha. Out of that 4 are higher than 8000 mts an unbelievable array of snow peaks nowhere else can be seen.

Soon clouds started moving upwards and a bright ray of light soon kissed the valley. In that light of dawn, we noticed that exotically colorful Himalayan flora around us. An asphyxiation kind of monotony created during long lockdown was slowly easing out. We all were back to life after many months.

Travel Logistics :

# Tukvar is just 20 km before of Darjeeling.
# It takes nearly 3 hours from Bagdogra airport.
# Do not go without advance booking.
# The estate is full of Himalayan birds and flora.
# The road is good but very stiff.
# The Tea estate is presently owned by Birlas - It's new name is Puttabong.
# The British bunglow is now used by company manager - You need to derive permission to access that.
# The accommodation is decent and hygenic - Do not expect luxury.



This article was published in The Hitavada on 4th April 2021. Photo credit - Somen Sengupta and Deoparna Rai.

Click here to view the original article